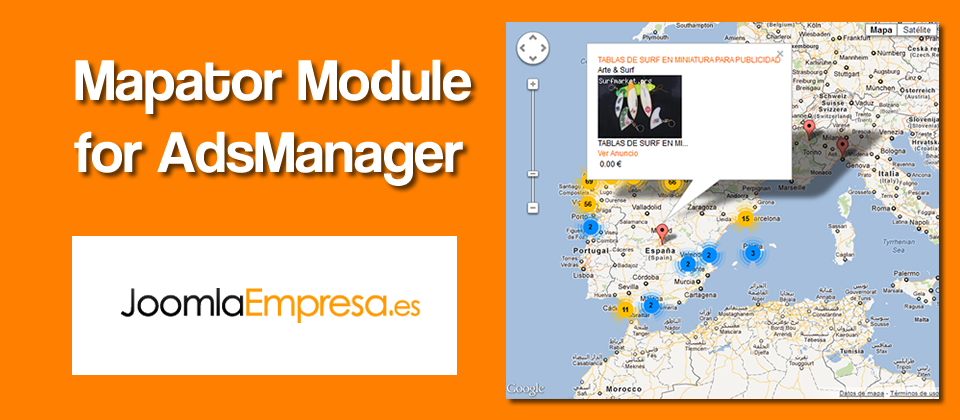 With this module for Adsmanager you can show the location of the ads of AdsManager in any module position in your website using the Google Maps services. Improve your web by allowing your users to find ads by searching the map. Now includes a plugin "mapator" to insert a map in the details ads view!
It works with JOOMLA 3.5, JOOMLA 2.5 and JOOMLA 1.5
It works with AdsManager 3.1, 3, 2.9, 2.8, 2.7, 2.6 and 2.5

Parameters:
You can choose the ads category.
Personalize the number of products in the map.
You can define the centre point map and the zoom level.
You can set the size of the map in the parameters of the module.
Map Type and marks size
Product information is displayed when the user clicks over the marks: picture, ad title, category, price, short description and its ad link.
Marker clusterer incorporated: if some marks are very close, the visitor will see the number of ads in a circle over the map location.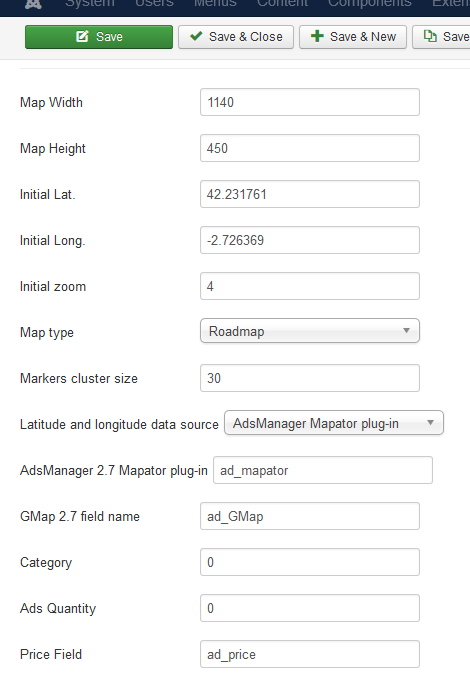 PLUGIN INSTALL INSTRUCTIONS:
Go to AdsManager Plugin Installer: AdsManager > Plugins > Upload Package File "mapator.zip"
Go to AdsManager Fields and create a new one selecting in the Type menu the plugin "Mapator".
Choose the other parameters and select the categories where you want to show it. Don`t forget to publish it!
MODULE INSTALL INSTRUCTIONS:
Install as usual.
Go to the Module Manager and publish it.
UPDATE INSTRUCTIONS:
Just install the new version. You don't need to uninstall it before.