This extension for AdsManager allows you to insert a module down the ad up with the contact information details of the vendor and the images of the others ads of the vendors.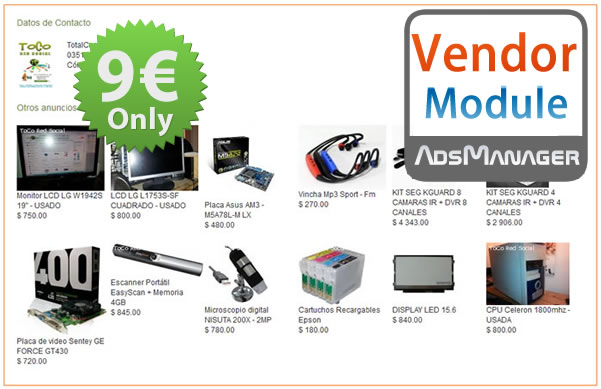 Parameters:
You can show in this module: Name, telephone, city, website, facebook and a link to send an email to the vendor.
Number Max. of ads to show

It works with Joomsocial and Community Builder
Size of the avatar.

Text font, size, colours, borders, margins and text to show are easy to change from the Module Manager.
INSTALATION:

1. Install as usual.
2. Publish the module in the Module Manager

Websites using this Plugin:
You can get it for 4 € in our Joomla Empresa Shop Online

Buy Vendor Module for Adsmanager,
only 4 €!