This extension allows you to add social buttons in your Joomla articles. You can easily share your news in the following social websites by clicking on the buttons: Chuza!, Do Melhor, Reduggy, La Tafanera, Zabaldu, Aupatu, Menéame, Tuenti, Facebook, Google Buzz, Digg, Twitter and Google +1. Only Joomla 1.5.

Features:

4 Positions (top, bottom, left, right). Top and bottom positions allow to show all icons (in two sizes). Right and left only allow to show Chuza!, Do Melhor, Google Buzz and Digg, but the icons size is 52x52 px.
2 Sizes for mini-icons in top and bottom positions (18x18 px., 24x24 px.)
Align icons (left, center or right).
Personalize space between icons.
Show/hide icons and reorder them.
Twitter Status Message: you can personalize the separator.
Personalize a long or short sitename for Twitter.
Installation:

Just download the plg_partilhator.zip and install it as usual.
Edit the configuration as you need.
Publish the plugin.

Parameters: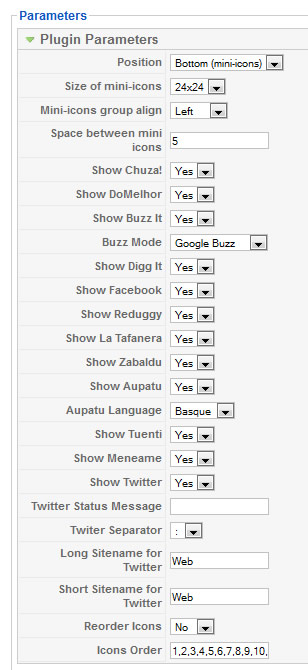 The parameters are mostly self-explanatory and the tooltips that shows when you pass the mouse cursor over the name helps you to know how to configure them. Additionally, here we explain to you some more details:

The Long and Short Sitenames for Twitter are intended to show in your Twitter message like this:

Long Sitename: Twitter Statuts or Page Title http://t.co/LINK via @Short Sitename

You can reorder icons as you want. To do this, you must choose 'Yes' in the 'Reorder Icons' option and then insert the numerical order in the 'Icons Order' field, separating numbers by commas. You have to take in mind that the equivalences are:
Chuza = 1
DoMelhor = 2
Reduggy = 3
La Tafanera = 4
Zabaldu = 5
Aupatu = 6
Menéame = 7
Tuenti = 8
Google Buzz = 9
Digg = 10
Facebook = 11
Twitter = 12
Google +1 =13

Therefore, if you want to show Twitter in the first position, and Digg in the second, you must to insert '12,10,1,2,3,4,5,6,7,8,9,11,13'. However you can insert only '12,10', and the plugin will order and place first the references that you have chosen and the rest will remain the same.

Images:
{artsexylightbox path="images/stories/extensions/partilhator/examples" thumbnailPath="images/stories/extensions/partilhator/examples/thumbs"}{/artsexylightbox}