FREE JOOMA EXTENSIONS - PARTILHATOR
File: CSSconfig

Uploaded:

24.05.13

Modified:

11.10.13

File Size:

57 KB

Downloads:

2139

Version

1.0

CSSconfig is a simply plugin to inject CSS code in all your website front-end with no need to change templates css files. It works with Joomla 2.5 and Joomla 3. This system plugin it's very easy to use and with it you can avoid the loss of CSS code changes when you update you templates or extensions.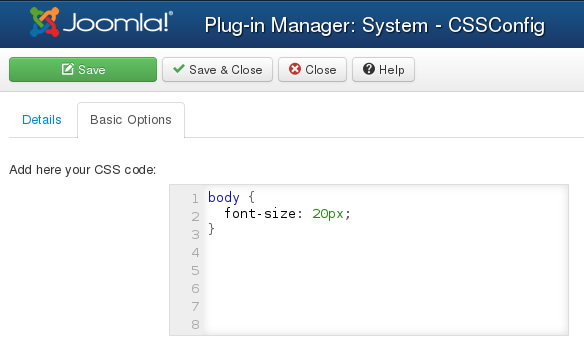 Requires the CodeMirror plug-in to be published. CodeMirror is a editor with syntax highlighting and code indenting (http.//codemirror.net/), available as a plug-in in Joomla 2.5 and Joomla 3.0

To enable it you must go to 'Extensions > Plug-in Manager' in the Joomla back-end and publish the plug-in.

Pro Extensions
Akeeba Subscriptions 4B Pasat
€49.00




€29.00


You Save: €20.00

Redsys Sermepa Payment System for JoomShopping
€29.00
3 Plugins Pack AdsManager
€17.95
Partilhator DOCMan - Social Bookmarking
€6.00
Banner Field - AdsManager
€8.95
TPV CECA payment gateway for Virtuemart 2
€49.00




€39.00


You Save: €10.00

Mapator AdsManager
€11.95